About Us
UACJ Group Philosophy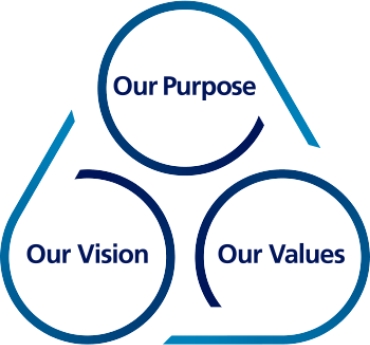 Our Purpose
Contribute to society by deriving value from raw materials to manufacture products that enhance prosperity and sustainability.
Our Vision
Aluminum is our passion.
It inspires our work in building a better world and a healthier environment.
Our Values
Respect and understand your associates.
Embrace honesty and foresight.
Be curious and challenging.
The UACJ Way
Aiming to realize the UACJ Group Philosophy, UACJ created the UACJ Way as a set of basic guidelines for all employees to follow. Founded on the principles of safety and compliance, the UACJ Way expresses a path forward for actions in accordance with the three values of respecting and understanding our associates (Mutual Understanding and Respect), embracing honesty and foresight (Sincere and Future-oriented Approach), and being curious and challenging (Curiosity and Drive to Take on New Challenges). All members of the UACJ Group are expected to follow these shared guidelines so that the Group can continue contributing to people's livelihoods and their communities for many years into the future.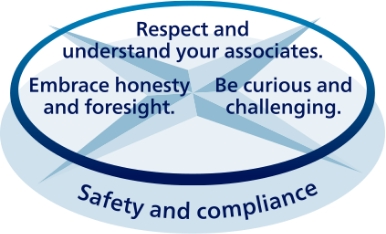 Respect and understand your associates
Value and contribute to your workplace's efforts to engage with the local community
Accept diversity and respect people's values
Communicate openly with your co-workers while placing importance on individual and team development
Contribute to making your workplace more positive and dynamic
Embrace honesty and foresight
Follow the Group's 5-gen principle*
Sincerely respond to the expectations of stakeholders by facing facts and helping the Group manufacture genuine products with integrity
Stay ahead of emerging trends and play an active role in protecting the environment
* The 5-gen principle is a concept used by manufacturers in Japan that stresses the importance of the place where relevant activities happen (genba), relevant things (genbutsu), actual conditions (genjitsu), principle (genri), and rules (gensoku).
Be curious and challenging
Be inquisitive about changing trends and take on challenges while helping the Group provide products and services needed by society
Aim to be creative and innovative in your work with a forward-looking perspective
Corporate Slogan and
Brand Message

Today, through the supply of high-quality aluminum, the UACJ Group is committed to improving people's lives and helping to realize a more sustainable society.



Aluminum has been in use for about 200 years.
It's high recyclability and light weight have contributed to reducing environmental impact.

The element has also attracted attention with its high functionality, robust composition, and workability.

Now, as the world places great value on sustainability, expectations for aluminum are even higher.
The UACJ Group will continue to expand the possibilities of aluminum by combining the skills and techniques it has mastered over the past 100 years.


We aim to make the world brighter and lighter to create a better global environment.