Products
TF Series Wear-resistant Alloys
Company-developed alloys with a high Si content featuring high wear resistance and strength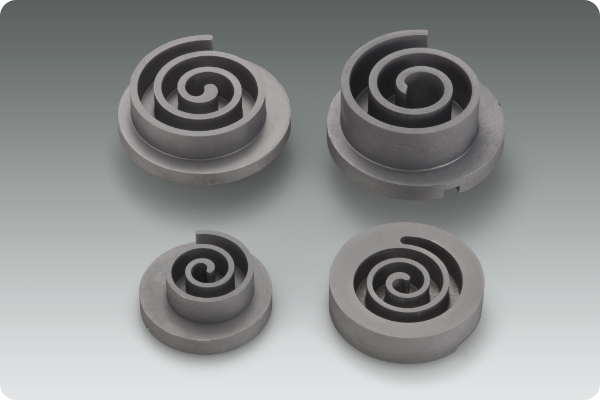 Aluminum alloys featuring stable wear resistance and strength. 4000 series (Al-Si) aluminum alloys that have high strength and high formability and minimizing damage to the partner material by dispersing microspherical Si particles utilizing our proprietary technology. UACJ Foundry & Forging Corporation, a UACJ Group company, can also supply forged products such as pistons and scroll materials.
Features
Excellent wear resistance and low thermal expansion at high temperatures.
Using these alloys, it is possible to supply bars and shaped materials from small to large diameters.
Wear-resistant alloys of expanded materials have less variation in wear resistance and other characteristics.
TF10B
Excellent formability and suitable for cold forging.
TF12B
It has the highest wear resistance and strength among TF series alloys and is suitable for warm forging and hot forging.
Product Applications
Wear resistance (compared to existing material)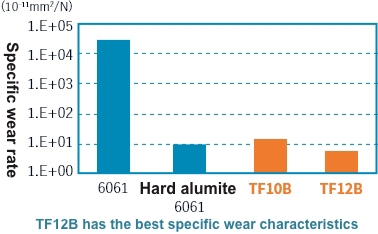 Wear resistance (compared to competitor material)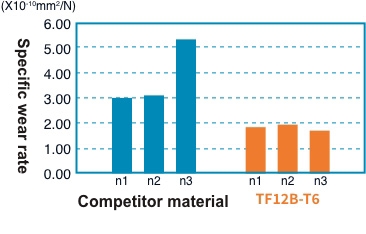 Coefficient of thermal expansion (compared to existing material)
Wear-resistant aluminum alloy strength
Alloy
Tensile Strength
(N/mm2)
Resistance
(N/mm2)
TF10B
366
272
TF12B
435
382