Products
Extruded Clad Materials
Our original extruded clad material manufacturing technology can add new functionality to material surfaces.
Clad pipes are extruded aluminum products for which UACJ's proprietary manufacturing technology is used to seamlessly combine an alloy material different from the core material on the inner and outer surfaces of the core material to provide new functionality such as high corrosion resistance. These materials are mainly used for tubing in automotive heat exchangers.
They can be manufactured ranging in size from small diameter tubes with an outer diameter of 6 mm to large diameter tubes with an outer diameter of 90 mm
Long coil can be supplied for small diameter pipes through continuous drawing
In addition to pipes, bar and shaped material cladding are also possible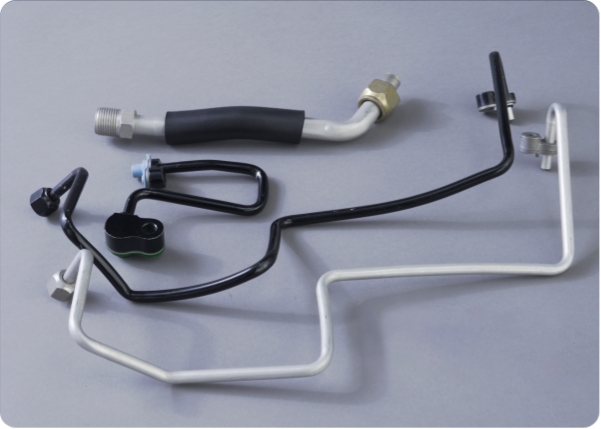 Features
The core material and cladding layer are seamless due to metallic bonding, offering excellent pressure resistance, expansion, rolling, and bending characteristics.
It is possible to manufacture not only two-layer clad tubes on the outer and inner surfaces, but also three-layer clad tubes of the same and different alloys on the inner and outer surfaces.
The multi-layer structure of aluminum eliminates the use of resins and other different materials, making it highly recyclable.
Structure of clad tube (multi-layer aluminum tube)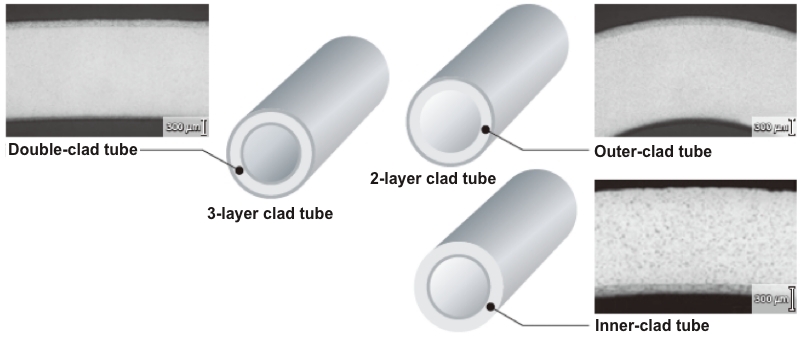 Extruded Clad Material Use Examples
There is a high degree of freedom regarding how materials can be combined for use as the core material and cladding layers, allowing various material functions to be added. A clad layer can be added to bar members and simple shapes to improve performance.
Structure of clad tube (multi-layer aluminum tube)
For improved corrosion resistance → 7072 alloy clad layer
For Hydrogen embrittlement resistance → 6061 alloy clad layer
For improved wear resistance, use as brazing material → 4000 series alloy clad layer
For high strength → 5000 series alloy core material
Examples of Extruded Clad Material Combinations
Piping for FCV (Core material: 3003 + Outer cladding: 7072 + Inner cladding: 6061) = corrosion resistance + hydrogen embrittlement resistance
Bar material for engine parts (Core material: 5056 + outer cladding: 7072) = high strength + corrosion resistance
Shaped material for gear case (Core material: 6063 + Inner and outer cladding: 4112) = high extrudability and wear resistance
Example of cladding material for fuel cell vehicle (FCV) tubing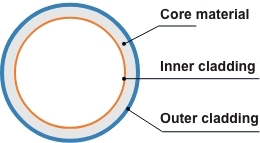 | Layer | Material | Characteristics |
| --- | --- | --- |
| Outer cladding | 7072 | Corrosion Resistance |
| Core material | Consultation required | Strength and formability |
| Inner cladding | 6061 | Hydrogen embrittlement resistance |
The aim is to improve corrosion resistance on the outer surface and hydrogen embrittlement resistance on the inner surface
Example of cladding for gearcase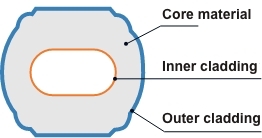 | Layer | Material | Characteristics |
| --- | --- | --- |
| Outer cladding | 4112 | Corrosion Resistance |
| Core material | 6063 | Strength and formability |
| Inner cladding | 4112 | Hydrogen embrittlement resistance |
Example of cladding material for engine parts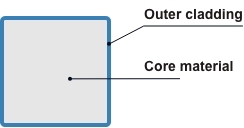 | Layer | Material | Characteristics |
| --- | --- | --- |
| Outer cladding | 7072 | Corrosion Resistance |
| Core material | 5056 | High strength |